Today's guests are Phanella Mayell-Fine and Alice Olins, career experts and co-founders of Step Up Club.
The Step Up Club delivers practical, accredited careers advice and broadens its followers' networks. The Step Up Club's viewpoint is simple: every woman can achieve her own definition of success with the right support, tools and network. Career advice should not be limited to corporate boardrooms.
Alongside its face-to-face coaching programme is Step Up School Online, a distance-learning based course, weekly email newsletter, onsite career advice, free downloadable worksheets and more. They also have an awesome book 'Step Up: Confidence, Success and Your Stellar Career in 10 Minutes A Day' (you can buy it here).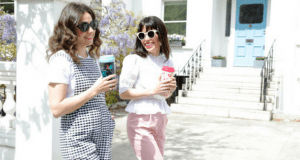 What I love about them is their own career stories that have led them to this juncture. Their personal experiences, passion and knowledge is put to incredible use in giving other women in business a helping hand. If you have or want your own business, this one's for you. Enjoy!
The Step-Up Club's Favourite Books:
The Seven Habits of Highly Effective People by Stephen Covey (you can buy it here)
'Step Up: Confidence, Success and Your Stellar Career in 10 Minutes A Day' (you can buy it here)
Where to find out more about The Step Up Club
[Liked this episode of the podcast? If so, be sure to listen to Episode 3 with Lauren Armes, founder of Welltodo here.]