Today's guest is Laura Bingham – British explorer, adventurer and all-round inspirational woman.
Leaving home at 18, Laura decided she wanted to travel the world and search for a life like no other. After spending some time in Mexico, teaching English and working on a jaguar conservation programme, Laura made the bold decision to attempt to sail across the Atlantic ocean. It took 2 months and the experience inspired Laura to challenge herself, and others, again. In 2016 Laura cycled 7000km across south America with NO money to get an idea of life without financial or social stability.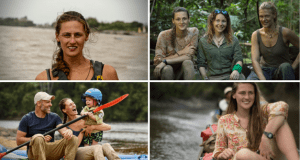 Her most recent project blew my mind, and I was obsessed with following her progress. As expedition leader Laura, and her two amazing team mates Ness Knight and Pip Stewart, trekked to find the source of the Essequibo river in Guyana before paddling down the length of the river – 1000km – making them not only the first female team to run the Essequibo, but the first people ever to navigate the river.
Interviewing Laura was a huge career highlight for me as she is so incredibly determined and motivated. It's also important to note that she completed her most recent project 8 months after having her adorable son Ranulph, proving that your life and career do not have to end because you become a mother.
Laura's husband is fellow explorer Ed Stafford and they intend on sharing parenting to allow them to continue their incredible careers. I hope you enjoy the podcast and I'd love to hear your feedback.
Laura's Favourite Book: Forrest Gump by Winston Groom (you can buy it here)
Where to find out more about Laura Bingham:
Where to find out more about the Essequibo Expedition:
Follow Laura's Expedition Team:
Pip Stewart:
Ness Knight:
**
Find out more about The Pilates PT Method Online by signing up for Free HERE