Today's guest is Kimberley Wilson, a Chartered Psychologist and visiting lecturer working in private practice in central London.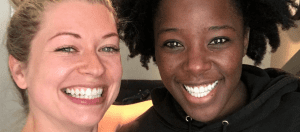 Kimberley is a current Governor of the Tavistock & Portman NHS Mental Health Trust and the former Chair of the British Psychological Society's Training Committee in Counselling Psychology – The group responsible for monitoring and assessing the standards of Counselling Psychology training across the UK. She also formerly led the therapy service at HMP & YOI Holloway, Europe's largest women's prison.
A former finalist on The Great British Bake Off, she is also an occasional TV presenter, food writer, contributor to radio, print and online media on food, psychology and the interaction of the two.
What I love about Kimberley is she has taken her two passions (food and psychology) and created a successful and fulfilling career from both.
In this podcast we discuss her impressive career path, the role of social media in mental health, and the lack of inclusion and diversity in the wellness industry.
I hope you enjoy it and please do leave us a review if you get chance. If any of the topics in this podcast resonate with you, or someone you know please do share the podcast on your social channels to help us spread the amazing positive advice this strong woman shares.
Similarly, if you did enjoy this episode please line up my episode with Bella Younger, aka Deliciously Stella, next! You can listen to it HERE
Kimberley's Two Favourite Books:
Man's Search For Meaning by Victor Frankl (you can buy it here)
The Picture of Dorian Grey by Oscasr Wilde (you can buy it here)
Where to Find Out More About Kimberley Wilson:
Where to listen to this episode: