Todays guest is Becky Young, founder of the Anti-Diet Riot Club.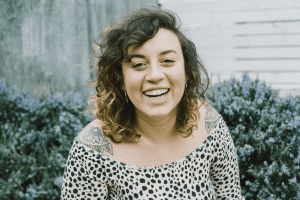 The Anti-Diet Riot Club hosts events and meet-ups, in London and the UK, that connect people struggling with diet-cycling, poor body image, and disordered eating.
Their aim is to spread the message of body acceptance, radical self-love and fat positivity. Becky is very open about her personal experiences of body acceptance and I think this really helps her to relate to the community she has built.
Body positivity has had somewhat of a boom recently but its roots can get easily confused or diluted. In this podcast we discuss what and who body positivity is really for and how we can all support the movement, no matter our size.
[If you enjoy this episode I really recommend that you listen to Episode 19 of The Strong Women Podcast with The Rooted Project next. In this episode we discuss some of the common myths around nutrition including who to trust, how to sift through the bullshit and how nutrition isn't always black or white. You can listen to it HERE]
Becky is absolutely amazing, I instantly loved her and she is passionate without being aggressive. She is changing peoples perspectives using positivity, not negativity.
I really hope you enjoy the podcast and please do share it with loved ones you feel may need to hear her message. Lets spread the love.
Becky Young's Favourite Book: A Thousand Autumns of Jacob De Zoet by David Mitchell (you can buy it HERE)
Where to find out more about Becky Young and The Anti-Diet Riot Club:
Want to listen to this on the move? Click one of the following links to listen elsewhere: