Todays guest is Bella Younger, a comedian, journalist, script writer, social media influencer and brand consultant who you'll probably know best as Deliciously Stella.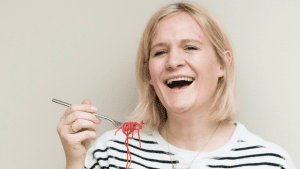 Deliciously Stella is the satirical Instagram account that began as a parody of the 'eat clean and 'fitspo' movements we all have a love/hate relationship with.
She has written a book (which you can buy HERE), hosts a podcast that has been downloaded over 100,000 times (listen HERE) and has performed two sold out live shows at the Edinburgh Festival.
She has been a speaker and panelist at numerous events including Stylist Live and her favourite topics include, building an online brand, self-acceptance, and navigating internet fame.
I first started following Bella over a year ago. She came around at a time when people were really starting to get fed up of the smug, occasionally damaging picture of health Instagram stars seemed to be endorsing – Kim Kardashian I'm looking at you. She taught us to laugh at ourselves and also see how ridiculous certain claims or aspirations really were.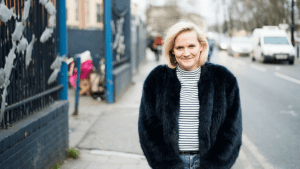 Her rapid rise to fame did not come without it's challenges, particularly for Bella's mental health. In this podcast she talks candidly about her struggles.
This is a great podcast for anyone looking to work as an influencer, or within the wellness industry in general, as she gives some great advice on how not to burnout.
I love Bella and I particularly love how she is a completely open book. If it will help other women there is nothing she won't say, do or admit. Enjoy the podcast everyone and please do share your feedback by reviewing us on iTunes, Soundcloud or by sharing this podcast in your own social channels to help other women who may need access to this advice.
Bella's favourite book: Harry Potter & The Philosophers Stone (you can buy it HERE)
Deliciously Stella / Bella Younger in the press:
Where you can find out more about Bella:
To Listen To This Episode of The Strong Women Podcast On The Go:
Is this the first episode of The Strong Women Podcast that you've listened to? If so, why not go back to where it all started and listen to Episode 1 of the podcast with Melissa Hemsley by clicking HERE.