Todays guest is Holly Hill, a GB rower who I met during the Oxford Cambridge boat race this year.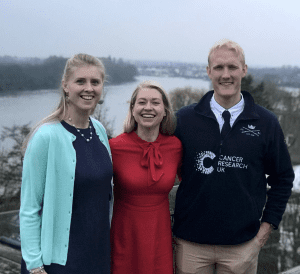 Holly is 24, from Gloucestershire and started rowing in September 2013 with the GB Start Scheme in Cambridge where she was studying for a degree in Human, Social and Political Sciences.
In 2015 Holly rowed in the inaugural Women's Boat Race alongside the men on the Tideway, the first time the women's team had been able to do so, and again in 2017 where Cambridge won, and set the women's course record. You can watch the full race HERE.
She has since won various medals competing for her country and is currently training full-time with the GB Rowing Team in Caversham. Furthermore, she has been selected in the Women's GB Eight for this season. I was lucky enough to record this podcast at the National Rowing Training Centre which you'll hear when we are interrupted half way through by a member of the team. Holly showed me around and I was so impressed with the facilities our athletes have been given.
In this podcast we discuss what it's like to be a GB Rowing athlete and how Holly personally entered the professional rowing scene. I found Holly beyond inspiring. When she talks about rowing her face completely lights up and her passion for it is infectious.
This podcast is for you if you want to know more about the life of a professional athlete, you're interested in joining a team sport or you want to know more about the mindset needed to win.
I loved interviewing her. If you enjoy the podcast please do share it with your friends and family on your social channels or leave us a review. This will really help The Strong Women Podcast to grow.
Hollys Favourite Book: Moranifesto by Caitlin Moran (you can buy it HERE)
Where You Can Find Out More About Holly Hill:
To Listen To This Podcast On The Move Click One of The Following Links: