Today's guest is Gemma Hillier-Moses. Gemma is the founder of Move Charity and is also a competitive runner, having ran for her country numerous times.
Move Charity devotes its time and energy to educating young people living with cancer on the importance of moving and keeping as fit as possible during and after cancer treatment. After studying sports science at Loughborough University Gemma went on to work with Nike.
At the age of 24 Gemma begun to notice a lump on her neck which, after much misdiagnosis, was diagnosed as Stage 3 Berkitts Lymphoma, a rare form of cancer. After aggressive treatment, and in between rounds of chemo, Gemma ran the Great North Run. This was the start of her mission to spread the word of the importance of movement and strength in other cancer sufferers.
Move Charity has grown extraordinarily. The charity now runs events and workshops and educates health professionals on the psychological effects of treatment. It also provides online support for children facing cancer.
I first met Gemma at Fit as a Fiddle Festival, a fitness festival raising money for Move Charity, and I was blown away by her passion and honesty.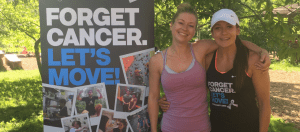 If everything that happens has a reason then Gemma's experiences have created a beautiful soul on a mission to help others.
Gemma's Favourite Books:
1. Behind Closed Doors by B A Paris (you can buy it here)
2. Let Your Mind Run by Deena Kastor (you can buy it here)
Where You Can Find Out More About Gemma Hillier-Moses and Move Charity:
Donate to Move Charity HERE