This week, on The Strong Women Podcast, my guest is Chloe Brotheridge. Chloe is a hypnotherapist and anxiety expert and her book, The Anxiety Solution (buy it here) is a practical guide for women with anxiety on how to have a quieter mind and live a calmer life. She also has her own practice in London and has helped hundreds of sufferers overcome severe anxiety. Having experienced severe anxiety and panic attacks first hand since her teens, and finding her own path to inner healing, Chloe now feels privileged to be able to share with others the transformative tools and techniques she used herself to achieve a sense of control and inner peace.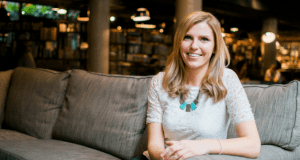 She has written for Marie Claire, Get the Gloss and Stylist and her book was serialised in the Daily Mail. She also delivers workshops around London, and offers 1-2-1 hypnotherapy sessions in London and via Skype. Furthermore she has her own 6-week online programme called 'Your Calmest Self'.
Having suffered with anxiety in the past I remember reading Chloe's book 'The Anxiety Solution'. It was as if I was reading all about myself. Chloe has a way of talking about anxiety in such an open and honest way and her book is full of easy tips and advice on reducing your levels of anxiety.
Whether you suffer personally with it, or know someone who does, I hope this episode helps you learn more about how to acknowledge and understand this, quite common, problem. You can also read Chloe's top 5 ways to handle anxiety as part of the expert content on The Pilates PT Method Online which you can read about here.
Where to find out more about Chloe Brotheridge:
– Website
– Facebook
– Twitter
– Instagram
– Buy 'The Anxiety Solution' here
The Pilates PT Method Online
Sign Up for FREE here