Today's guest is pre and post-natal fitness expert Caroline Bragg.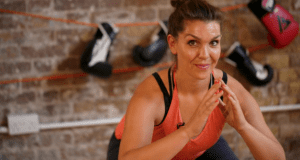 Caroline is a personal trainer and studio instructor and is hugely passionate about the wellness journey from pregnancy to postnatal. Caroline also teaches on postnatal retreats for families in France for 'And Breathe' retreats (read about 'And Breathe' here) and teaches qualifications in pre and post natal fitness.
Recently Caroline and I noticed a few errors circulating social media with regards to what new mums should be doing fitness wise and Caroline suggested recording a podcast on this very topic. Fitness during pregnancy can be a real minefield as a quick Google search can throw up all kinds of inaccuracies.
[Are you enjoying this episode of the Strong Women Podcast? If so, why not check out The Pilates PT Blog HERE where you will find articles covering topics such as mental health, nutrition, anxiety, pilates, and wellbeing]
With years of experience between us in teaching pre and post-natal clients we discuss exactly what the recommendations are for during and after pregnancy. If you haven't read my recent blog on Diastasis Recti (read it here) I would do so as it will really help you to understand why certain activities are not advised so close to labour.
Staying active during your pregnancy is beneficial for your mental and physical health. Plus it's thought to make for an easier labour. I really hope this helps those who want to stay active during their pregnancies do so. Please remember that every pregnancy is different and to work closely with your doctor to check that they too are happy with your fitness plans. I hope you enjoy this episode of the podcast!
Where to find out more about Caroline Bragg: