Today's guest is a truly amazing woman, Sabrina Greenberg.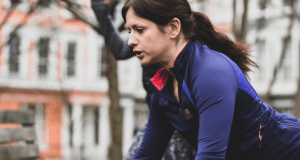 Sabrina has suffered with anxiety for the last 10 years. In this episode, she discusses with such honesty and clarity how anxiety feels, how she believes it began and also how she works to address it in her everyday life.
Over the last couple of years Sabrina has found that exercise has really helped her re-connect with a body that she felt she had no control over and she has created an incredible blog Anxiously Active to document her journey. I am an avid fan of Anxiously Active and am very vocal on social media about the message Sabrina is spreading throughout it. Furthermore, she was recently part of a series with the Evening Standard called 'Mental Health in the Metropolis' and the video interview for this is really worth watching (watch it here).
I loved recording this podcast, especially as I have suffered with anxiety in the past. I am so glad women like Sabrina are talking about mental health to free others from the shame and embarrassment that many others may feel around this topic. If you are enjoying these podcasts please do leave me a review as I would love to know what you think.
I really hope you enjoy this episode.
Oh, and if you were interested in getting Sabrina's favourite book 'Shadow of the Wind' by Carlos Ruiz Zafon you can do so here.
Where to find out more about Sabrina and Anxiously Active:
– Facebook
– Twitter
– Instagram
– London Evening Standard 'Mental Health In The Metropolis' video. Watch it here