Today's guest is one of the women I admire most, the amazing Anna Kessel.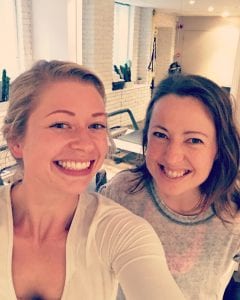 Anna's list of achievements are as long as they are admirable. A successful sports journalist for The Guardian and Observer, she has covered 3 Olympic games and several World Cups earning herself an MBE for services to journalism and womens sport (Read about when she was awarded the MBE HERE).
Anna is also the author of 'Eat Sweat Play' (buy it HERE) – a book that aims to bring sport to the female masses and lays out the inherent sexism in sport. This is a book that spoke to me on so many levels and I love it so much it's included in our Pilates PT Method Online starter packs – nothing will inspire you to readdress the balance in sport more than this!
Furthermore, Anna is the co-founder and chair of Women in Football – an organization that champions female role models in football and lobbies against sexism in the game.
Anna is doing amazing things in the world of sport. She shows how you don't necessarily have to love playing sport to be interested in observing, supporting or working within it. She is a real inspiration and I hope you enjoy the podcast.
Also we are currently running a competition. If you preorder my upcoming book you could win a Pilates PT Method Online PLUS plan (worth £398) and £100 worth of Sweaty Betty vouchers. To enter this competition simply click HERE.
Where to find out more about Anna Kessel:
– The Guardian Website
– On her MBE
– Twitter
– Instagram
*
Did you enjoy this podcast? If so, why not listen to Episode 9, where I interview Caroline Bragg, a pre & post-Natal fitness expert: it was a fascinating chat and included so many crossover points that were mentioned with Anna in this episode. Listen to it HERE