Today's guest is Pippa Murray.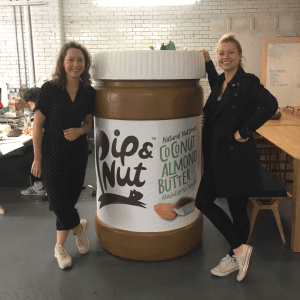 Pippa is the founder of Pip & Nut, an all-natural nut butter brand which was born from Pips love of running, but dislike of the nut butter offerings at the time – many of which contained palm oil and sugar. Pip & Nut started in 2015 and Pip has such interesting stories about the journey the business has taken including her living in a shed to how she secured £120k worth of investment in 9 days.
Pip is so down to earth and relaxed when talking about Pip & Nut despite the fact that with very little initial experience she has created a company that last year saw a turnover of £5m.
This podcast will be great for those who have an idea for a product or service but are unsure of how to turn it into a viable business. Pips idea was born whilst she worked at The Science Museum in a totally different industry however with hard work, passion and imagination she has built one of the coolest brands in the health food market.
I hope you enjoy the podcast and pick up some great tips along the way. If so, I would love it if you could leave me a review on iTunes. It literally takes seconds and will help others find the podcast too.
Pip's Favourite Book: A Little Life by Hanya Yanagihara (buy it HERE)
Where you can find more out about Pippa Murray and Pip & Nut:
[If you have enjoyed this podcast be sure to check out Episode 10 with Anna Kessel. Listen to it HERE ]