Todays guest is Patience Kakitie.
Aside from being one of the most fun instructors I know Patience is seriously inspiring. Patience is a Personal Trainer and Karate coach. I first met her when my husband and I moved out of London to Oxfordshire. She has the most incredible energy and her spinning classes are as tough as they are uplifting and hilarious. When her children were young Patience decided she wanted to take up Karate and didn't she give it her all – she has since competed at a national, European and world level (as have her children).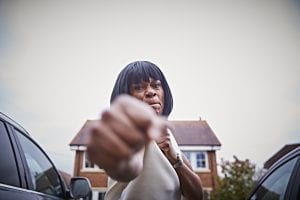 In this podcast Patience talks me through how starting a sport later in life doesn't need to hold you back. Also, how a lot of her success has been down to her mindset. Patience is so warm and makes me laugh so hard. I hope you enjoy this episode as much as I obviously did.
If you enjoyed this episode with Patience Kakitie be sure to listen to Episode 10 with Anna Kessel HERE : Anna is a huge champion for women in sport, I know you will love her!
Patience's Favourite Books:
Where you can find out more about Patience: