Today's guest is straight-talking, bullshit-finding, research based, fact giving Laura Thomas.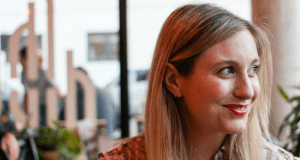 Laura is the real deal when it comes to nutritionists. She studied Health sciences at the University of Aberdeen, took her PhD in nutritional sciences at Texas A & M university and went on to be a postdoctoral researcher at Cornell University for 2 years before the cold ass weather brought her back to the UK (this also explains her Scottish American hybrid accent)
Laura is fiercely passionate about evidence based nutrition information. And spends a lot of her time trying to balance out the copious amounts of pseudoscience rubbish on there. She has a non-diet approach and is a huge advocate of intuitive eating. She also runs her own clinic in East London and also acts as an advisor for various TV and print material such as this years Mind over Marathon series on BBC 1.
I first met Laura when I appeared on her podcast Don't Salt My Game, which if you enjoy my podcast you'll love.
I love that Laura is not afraid to speak out against large corporations if she feels they are at risk of damaging women's relationships with food. She is feisty, clever and funny all in one and is doing wonders for the body confidence of so many. You're going to love her!
The book Laura recommends: Body Positive Power by Megan Crabbe (buy it HERE)
Did you enjoy this episode of the Strong Women Podcast? If so, and you want to train with the PilatesPT Team at our Fulham studio, please do read about our studio and book in a session HERE.
Where can you find out more about Laura Thomas: