This time of year is perfect for harvesting and sampling the wonderful world of the pumpkin and squash. These multi-coloured vegetables are absolute powerhouses of nutrition.  They are an excellent source of immune-supportive vitamin A and vitamin C, and are also a very good source of dietary fiber.
There are also SO many different varieties available nowadays. Butternut squash is the most common variant, but you can also get the Crown Prince Squash, Green Kabocha Squash, and Spaghetti Squash (to name only a few). I must admit too that I become fairly obsessed with them in Autumn and try to include them in as many of my recipes as possible!
With this in mind, please find below my step-by-step guide to preparing one of my go-to Autumn squash salads; an easy and nutritious salad to rustle up the night before work or even for a dinner party. Enjoy!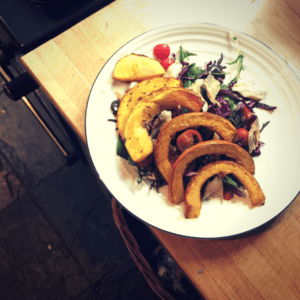 Serves 2 / Prep Time 5 Minutes / Cooking Time 20 Minutes
Ingredients
1 x Small Squash sliced into 1cm wide wedges (in the photos I used a Baby Bear Pumpkin)
1/3 Red Cabbage Sliced
4 Sprigs of fresh rosemary, leaves picked and chopped
Large handful of mixed salad leaves
Small handful of cherry tomatoes
2 x fresh mackerel fillets (tinned is also fine): I particularly like the hot smoked variety
Drizzle of white wine vinegar
Drizzle of extra virgin olive oil
Sprinkling of sea salt and black pepper
Optional Extras/Replacements 
Small handful of walnuts
Small handful of pumpkin seeds
Crumbled goats cheese
If you are not a mackerel fan this is also particularly tasty with grilled chicken breast sliced
Method
Pre-heat oven to 180 Degrees (200 Degrees for fan ovens)
Halve and deseed your squash
Slice squash into 1cm wide slices and place in a big bowl
Season with salt and pepper, add in chopped rosemary and olive oil and toss together
Place in oven for 20-25 minutes, or until squash is nice and soft with slightly darkened/crispy edges
Whilst in the oven prepare your salad:
Thinly slice your red cabbage into ribbons
Mix salad leaves, red cabbage, and tomatoes together (this is where you would add the pumpkin seeds and/or walnuts too) with your extra virgin olive oil and white wine vinegar
Crumble your mackerel fillets on top
When your squash is cooked place on top
Crumble goats cheese on if you wish
Pull up a pew and get stuck in!
And that's it: nutritious, delicious, easy to prepare and great for either a work lunch or a beautiful starter at a dinner party! Try making it with as many different varieties of squash as you can to find out which is your favourite! You may surprise yourself!
Did you enjoy this Autumn squash recipe? If so, make sure you check out my sumptuous Chocolate Avocado Mousse HERE