Before I worked in the fitness I used to be a professional pastry chef and chocolatier. As such, I am still a chocoholic and struggle to get through a day without having a square of the stuff! Now, I am also a massive proponent of eating a balanced diet and so even though I work within health and fitness now I take the view that if you want some chocolate, have some chocolate! And if you want chocolate and avocado together, just do it 🙂
Although I love a bar of Dairy Milk more than most things I came up with this recipe as I wanted to create a chocolate based pudding without the high sugar content of regular confectioners chocolate. I therefore used cacao powder but also avocado to make this a nutritious but naughty (I rather like that phrase, #nutritiousnutnaughty) after dinner treat that is perfect for a Friday night to give yourself a pat on the back that the week is over! It is SUPER easy to make and you can rustle it up in 5 minutes. Enjoy!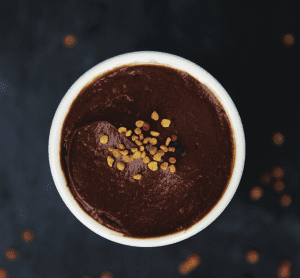 Ingredients (Serves 4 / Preparation time – 5 Minutes):
2 x Ripe Avocados (or 1 avocado for a smaller portion)
3 Tbsp of Cacao Powder OR unsweetened cocoa powder
3-5 Tbsp of either raw honey/maple syrup OR 2 Tsp of granulated stevia, depending on your sweetener of choice)
1 Tsp of vanilla extract
Pinch of salt
Optional: 1 Tbsp of almond butter (I recommend Pip & Nut ) or 1/2 Tsp of cinnamon
Method
Blend all ingredients in a blender until smooth (Nutribullets are perfect for this: minimal washing): watch that avocado make the whole mixture super-creamy!
Scoop the mixture into small serving dishes and chill
Serve with any topping you like: I love cacao nibs (these ones by Naturya are superb), berries, and/or bee pollen (as in the photo)
Eat!
And that's it: super simple & super nutritious (thank you avocado). It also caters to the chocoholics amongst us and is a great 'pat on the back it's Friday' treat!
*
Have you made this Chocolate Avocado Mousse recipe? I want to see/hear how you got on: put photos up on Instagram/Twitter/Facebook and don't forget to tag us (Facebook: @Pilatespt1, Twitter: @PilatesPT, Instagram: @thepilatespt) and use the hashtag #themodelmethod
*
Stuck for dinner ideas now? Want to make something equally as easy, nutritious, and delicious? Then check out my Pesto Courgetti, Chicken & Seeds recipe HERE