I absolutely love these protein and antioxidant rich pancakes for breakfast and what better time to enjoy them than pancake day!! They keep you full for longer and help to regulate blood sugar levels. High protein breakfasts can help reduce the risk of eating high-sugar and high-fat snacks during the day. This recipe is also gluten, lactose and sugar free. With practice these now take me around 10 minutes to make – great for the weekend, and my friends love them! Feel free to swap the chocolate protein powder for vanilla or any other flavour of your choice. I love the Sunwarrior range as they are gluten and lactose free but this may not be necessary for you – I would however recommend spending a little more for higher quality protein powders with limited/no sugar.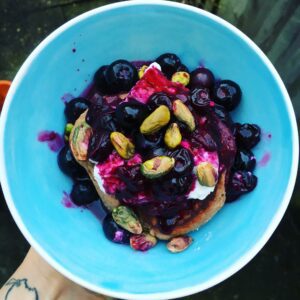 Serves 2
1 banana
2 eggs
1 scoop Sunwarrior chocolate protein powder
1 large handful of gluten free oats
Large handful of blueberries, heated in a pan
1 tsp Bioglan raw cacao
Coconut or greek yoghurt
Pistachios
Method
Pop the first 5 ingredients into a nutribullet or blender and blitz until smooth.
Melt 1 tsp of coconut oil or butter in a frying pan over a medium heat.
Pour small rounds of batter into your pan. When brown flip (this should take around 2 minutes each side)
Serve in a bowl stacked with the yoghurt, hot berries and pistachios.
Enjoy
We'd love to see your versions of this, share your photos on instagram and tag #themodelmethodonline and be in with the chance of winning a Pilates PT Method Online plan. 
*
Did you enjoy this pancakes recipe? Check out my recipe for Pesto Courgetti with Chicken & Seeds here