That long stretch between lunch and dinner can play havoc on your blood sugar levels and missing out on the right mid afternoon snack can make it really hard to make positive choices come dinner time. The mistake most people make when trying to 'be healthy' is sticking to just 3 meals a day when in reality we need to keep the body topped up with fuel throughout the day. You wouldn't expect your car to work on an empty tank so why expect your body too. This edamame recipe is super tasty, helps you up your greens and the egg will keep you full until dinner!
Here is one of my favourite mid afternoon snacks inspired by the amazing chefs at The Detox Kitchen.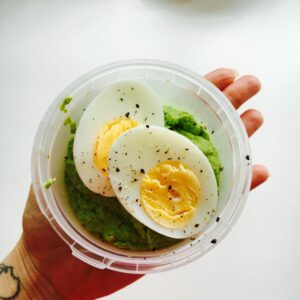 Recipe – Serves 1
1 large handful of frozen edamame
1 large handful of frozen peas
500ml vegetable stock
Pinch of chili flakes
Pinch of garlic powder
1tbsp yoghurt
1 organic egg, boiled.
Method
Place your beans, peas and stock in a small pan and simmer for 5 minutes until soft.
Drain and put all other ingredients (except your egg) into a nutribullet and blitz until smooth.
Season to taste. Top with your boiled egg cut into quarters or pair with crudite.
Benefits
Edamame beans are a fantastic source of protein and minerals. They are also low calorie and fat.
Eggs are a tasty, inexpensive source of animal protein and vitamins. Vitamin D can help protect bones and eggs leave you feeling fuller for longer!
*
Made this edamame recipe? Have you made my 'Surely These Aren't Good For Me Pancakes' yet? If not, check it out HERE

Also, please have a listen to The Strong Women Podcast where I interview strong women from all walks of life, including Melissa Hemsley, Emma Mills, Chloe Brotheridge, and Lauren Armes. Listen to it HERE.