Todays guest is Emma Mills. Emma is a writer and meditation teacher with a passion for sharing ideas for living well. Starting her career working with the charity Mind she is now the author of the beautiful book 'Inhale, Exhale, Repeat'.  She is also the mindfulness expert for Neom and speaks at various events.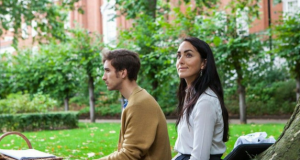 I first met Emma on a photo shoot with Red magazine and one of the things I noticed about her was how drawn to her we all were. We seemed to all take it in turns to sit with her and pick her brains about why she seemed so calm and relaxed in what should have been quite a nerve-wracking situation. It felt like simply being in her presence calmed you down. Since then Emma has been my go-to meditation expert and her book 'Inhale, Exhale, Repeat' has been incredibly helpful on nights when I can't sleep.
In this episode we talk about all things related to meditation and mindfulness and how you can start meditating today. I hope this episode helps those who don't yet meditate give it a chance, and those who do learn something new from Emma. You can also find 2 of Emma Mills' meditations as part of The Pilates PT Method Online. I hope you really enjoy the podcast, please share it if so.
Where to find out more about Emma Mills. Click on any of the below links:
Buy Emma's book 'Inhale. Exhale. Repeat' here
Or buy Emma's favourite book 'Soul Food' by Neil Astley here
Did you enjoy this episode of the Strong Women Podcast? If so, why not check out Episode 5, with my good friend Shahroo Izadi HERE where we discuss all things related to self-love and addiction. 
*
Have you signed up to The Pilates PT Method Online yet? Check out what is included in the plan here. I look forward to welcoming you on the first ever holistic fitness and mental health wellbeing online plan!