The Dilemma
This morning during my 7am client – knowing I had a very rare two hour gap after her –
I had the following conversation with myself.
"You should really go to the 8.15am Power Yoga class"
"But I'm not really in the mood and maybe I should make the most of this gap and go to St.Clements (local coffee shop) and have one of their amazing chocolate croissants"
"NO, that's so lazy, go to Yoga! You'll feel better after. You'll be annoyed at yourself if you go to St.Clements"
"But surely I should just do what makes me happy and I'd love to go sit down, respond to some emails and have a coffee and croissant. Not many people can do that during their workday, plus I'll cycle to work tomorrow and am working until 7pm tonight so I deserve a treat"
"You're a PT Hollie, what a hypocrite. Practice what you preach"
I went to St.Clements. And the croissant was divine.
[Are you enjoying this croissant blog? Fancy a sweet treat that is healthy but will also make you think 'How on earth IS this healthy?'? Then check out my recipe for 'Surely These Cannot Be Good For Me Pancakes' HERE ]
Working with women daily I hear the same thoughts are going through their heads. It's this inner dilemma we have over what we want to do and what we 'should do'.
Those who work in fitness are not immune to this and my clients are often shocked to hear that I love a good croissant. We, like everyone, are in no way perfect. Instagram is awash with photos of our cold-pressed juices and raw salads but we have partners, and friends, and children who we want to enjoy going for brunch with and like everyone else we have our guilty pleasures.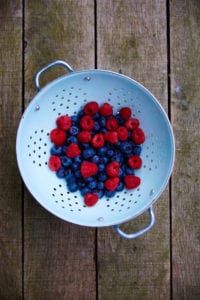 The dilemma above is linked to a way of life I often see. So many of us think that we have to be perfect everyday to be the shape/size/health we want to be. When we break from this 'perfect regime' we are furious with ourselves and the regime goes out the window entirely. We have a 'f*** it' moment and often the rest of the week goes to pot. The secret however is to not strive for perfection.
"Don't Strive For Perfection"
Some of the best bodies I know are not perpetual dieters, they may not exercise everyday, and they definitely don't deny themselves a croissant. They are a different type of constant with a different view of exercise. They've been exercisers for years. They know they always will be. These people go for runs on a weekend if they cant fit it in during the week. They might cycle to work a couple of times a week or go surfing on the weekends. They are not following a strict 'regime' they just fit it in when they can and it is part of their life, not their whole life.
So if you fancy a croissant and aren't in the mood to go to the class that you were 'supposed' to go to, sod it. Don't go. Go tomorrow when you're in the mood and actually nail the class, or on Saturday when you have a free morning. It's not a rush, there's no deadline. It's life and you fit exercise and healthy eating in when you can.
Ps. Apologies to those who now want a croissant.
*
Enjoyed The Croissant? Have you checked out The Pilates PT Method Online FREE 7-day Trial?
In signing up to The Pilates PT Method FREE 7-Day Trial you will receive:
Your own personal Pilates PT Method Account

Two Pilates PT Method workouts: one HIIT and one Pilates to be used across the 7 days on alternate days

3 exclusive recipes from Hollie Grant and Jenny Millichip's 'Nourish' nutrition guide

10 Days access to Headspace

One sleep meditation from meditation expert Emma Mills

7 exclusively written expert articles and guides

Daily wellbeing tips and motivation from Hollie

An exclusive discount on the full Pilates PT Method plan
 Start your re-investment in yourself today and sign up here.