6 hashtags to use with caution: In my line of work, I meet a lot of women. I mean A LOT of women. And I have found that they are increasingly feeling frustration with the fitness industry and its mixed messages. One minute they are seeing a headline that says '5 ways to learn to love your body' and the next they see one saying 'the top 5 fat-burning foods'.
Social media shows reams of lithe, tanned yoga-bodies contorted in poses most of us could only dream of and diet books show no sign of abating. I speak to women who are feeling depressed, disillusioned and saddened by their newsfeeds and feel that they are below-par just because they do not work out each day.
The problem is this isn't reality. What we see on social media is, at best, filtered and at worst absolute horse-shit. Those of us who work in the fitness industry must realise we have a social responsibility to be honest and realistic with our messaging and think about what our followers gain from our posts. This blog is not designed to patronise or upset anyone and the points I mention have come from the heart, but they are some suggestions of how we can all be more socially responsible with what we post (myself included).
Hashtags to be Cautious Of
 1. #balance
This seems to be the hashtag buzzword at the moment. We are all getting a little fed up with this 'my life is perfect' BS and so everyone is jumping on the #balance wagon. But is what you are posting an accurate reflection of balance? If you're posting a picture of your 6-pack saying you've had a weekend filled with food and booze I'm not sure we really believe you. Or if you're saying you're taking a rest day today to look after your body when we can see you have exercised straight for the last 10 days – that is not balance. Be careful that your version of balance does not make someone else feel crap.
For a laugh, check out one of my favourite anti-balance 'parody' pages 'Deliciously Stella' here.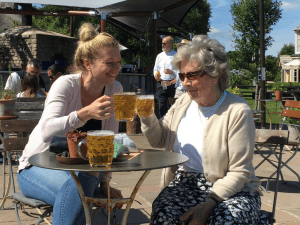 Balance = having a beer with your fianceé's grandma whenever you damned well want
2. #fitspo
It's only hashtag fitspiration if it is inspiring someone to try what you are demonstrating. So why do I see so few images come with a description of how to practice said posture/exercise. If you are putting up exercises or poses that you want others to be inspired to do why not add some info on the exercise in question. Otherwise we are all looking at it thinking 'well I'll never be able to do that so why bother'.
3. #qualifications
Please please please do not advise people on something you are not qualified in. I have seen all too often terrible examples of 'bum' exercises that would fuck most people's backs up. If you want someone to follow for exercise advice choose someone qualified, with good technique and experience.
*
4. #noexcuses
Don't tell me I have no excuse not to exercise. You know nothing about my life or my circumstances at present. If someone uses the #noexcuses, in my opinion, delete them.
5. #everydamnday
The majority of the population have full time jobs. Or children. Or family that need attending to. The chances of your followers being able to exercise #everydamnday is unlikely. So, posting your gruelling daily workouts might just be putting people off. A lot of my clients worry that they must exercise every day to see changes to their fitness levels, and whilst a little movement every day is amazing, this might not be manageable. Walking, gardening, running around after the kids counts so please don't feel you must do #yogaeverydamnday to be healthy.
6. #thehumblebrag
The 'oh I eat what I want, it's just genetics' is fine, if it's true. But if you have the body of an Adonis because you prioritise workouts, decline nights out, eat very 'clean' and sleep well, be honest. There is nothing wrong with choosing that lifestyle but we need to know that's how you did it. Then we can decide if we prefer the occasional kebab or not and how much we really want your body.
In Conclusion
And finally, be careful of being negative about your own body when it may well be someone else's dream body. Before clicking post think about what your follower will get from your post and how it will make them feel and whether the hashtags you are using are genuinely 'balance' 'fitspo' etc. If there is the possibility it might make them think of themselves as anything less than amazing, empowered or inspired please think again.
Have you tried out the brand new Pilates PT Method Online yet for FREE? If not, click here and select 'start your free 7-day trial' today!