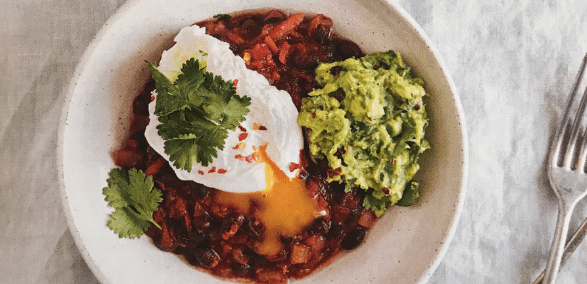 Serves 4 / Cooking time 30 minutes
I first had a dish like this in a café in Bristol. The black beans were spicy, the guacamole was fragrant, and it was topped with a perfect poached egg. Black beans are high in protein and fibre. Fibre plays an important role in digestive health and can help with bowel function.
Ingredients
White wine vinegar
4 eggs
For the black beans:
Small knob of butter of 1 tsp olive oil
1 carrot, peeled & finely chopped
1 onion, finely chopped
1 celery stick, finely chopped
1/3 fresh red chilli, finely chopped
1 garlic clove, finely chopped
200ml chicken (or vegetable) stock
1 bay leaf
400g tin black beans, drained & rinsed
400g tin of good quality chopped tomatoes
1/2 tsp ground cumin
1/2 tsp hot paprika
Sea salt & freshly ground black pepper
For the guacamole:
2 ripe avocados, peeled & stoned
3 spring onions, thinly sliced
Pinch of dried chilli flakes, plus extra to serve
Squeeze of lime juice
Small bunch of fresh coriander, chopped, plus extra to serve
Method
To make the black beans, melt the butter (or heat the oil) in a large saucepan over a medium heat. Add the carrot, onion, celery and chilli & fry for 5 minutes, until the onions are soft.  Add the rest of the ingredients, season with salt & pepper, bring to the boil, then simmer gently for 15 minutes (or longer, if you have the time – the longer you simmer the beans, the better their flavour), adding water if the sauce starts to dry out

Meanwhile, make the guacamole: mash the avocado in a large bowl, add the remaining ingredients, season with salt & pepper & cover the bowl with cling film until needed
Just before the beans are ready, poach the eggs. Bring a pan of water to the boil over a high heat & add a splash of white wine vinegar. Reduce the heat to a simmer. Crack one egg at a time into a coffee mug, then carefully tip each egg into the water (turning up the heat if the water stops simmering). Leave the eggs to simmer for 2-3 minutes.
Ladle the beans into bowls, add a dollop of guacamole to each serving & top with a drained poached egg, a sprinkle of chilli flakes, and fresh coriander.
Tips
Other beans, such as borlotti or red kidney beans, work just as well as black beans in this recipe.
The baked beans can also be made up to a day in advance and reheated when needed.
You can deseed your chilli if you don't like your food too spicy.