Creating The Original Pilates PT Method Online
I first created The Pilates PT Method Online two years ago after receiving interest from people outside of London who wanted to be involved in The Pilates PT Method training. I had been following the journeys of Kayla Itsines and The Body Coach for a while and whilst I thought their fitness plans were a great idea for getting people moving I disapproved of the fact it had a one-size-fits-all workout element. After 7 years as an instructor I know that every body is different, everyone's goals diverse. I decided to create an online fitness plan that was personalised to the individual and considered not only their current fitness levels, but their goals and opinions too. This is how my first online fitness plan was born.
The Refresh
Over the last 2 years I have really enjoyed reading through everyone's consultations. It's been so interesting finding out what people's goals are, what their motivations are and hearing what they think of their bodies. These answers, along with what I have learnt from my studio clients, have led me to change the Pilates PT Method Online.
The last 7 years have taught me that getting people to exercise is not as simple as just giving them an exercise routine to carry out. If it were that easy we would all be fit and healthy, and diets would not be being used as a crutch to so many. Unfortunately many of the fitness programmes on the market play into our insecurities and focus solely on weight-loss or the aesthetic gains of exercising. This is simply counter-intuitive and increases our body hang-ups. There are often other factors in our lives that affect our willingness to incorporate healthy habits into our lives. I have seen a strong pattern with these factors and I decided to address them each in the new online plan.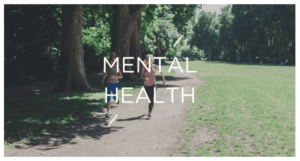 I have seen so many women (be they clients, friends or family) over the years hope that weight loss will make them happier. Unfortunately, no matter how much weight I have seen lost, it is usually something else that is causing us to feel anything less than amazing. As someone who has suffered with depression and anxiety in the past I know all too well that channelling the feelings you are having into your appearance will not end well. Therefore, I feel that addressing our mental health when we are trying to become healthier is an incredibly important and powerful thing to do.
How Have We Addressed Mental Health:
A 2-month subscription to Headspace
Expert articles on Anxiety (by Chloe Brotheridge), Meditation (by Emma Mills and Natasha Moutran), Body Confidence (by Muireann Carey-Campbell), and Mindfulness (by Headspace)
Meditation audio clips, especially for pre-bed time
A copy of the latest Psychologies magazine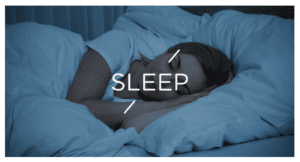 Long working hours, new babies, career stress and the feeling that we 'have to have it all' can play havoc with your sleep patterns. Poor sleep can have so many side effects. It can often manifest itself in weight gain or loss, lack of motivation/energy to exercise or increased chance of injury. Improving the amount of sleep you're getting and the quality of it will give you more energy. It will also improve your mood and reduce your risk of certain diseases.
How Have We Addressed Sleep:
Night-time meditation clips by Emma Mills (Mindfulness and Meditation expert)
Expert article on the Science of Sleep by internationally renowned sleep expert Dr Neil Stanley
Articles and advice from me on how I maximise sleep
Recommended products list.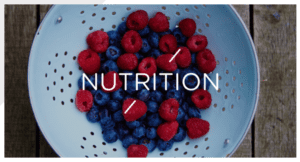 I really disagree with diet-culture. Everywhere we turn we are being warned not to eat this, eat lots of that, this is clean, this is dirty. It can become so overwhelming! We are developing disordered eating patterns as we jump from one diet to the next. Inevitably we pick up crazy rules from each and then forget what a balanced diet really is. I decided to strip it back to basics and educate you instead on how to nourish yourself, rather than restrict. There is no diet plan in The Pilates PT Method Online – I believe these do more harm than good. We want to educate you on nutrition so you can make your own informed decisions about what you eat.
How Have We Addressed Nutrition:
'Nourish': the educational cookbook written by myself and health coach Jenny Millichip. With 23 recipes to inspire you (this is in your starter pack)
Expert articles on The Truth About Sugar (by Jenny Rosborough), Eating for Energy (by Jo Travers) and Emotional Eating (by Laura Thomas PhD)
A range of my favourite nutritional items to add into your diet (these come in your starter pack)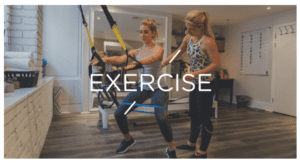 Getting fit does not have to mean spending hours in the gym each week. In fact, the prospect of this is what I see holding so many people back from starting a fitness regime. The fittest people I know are those who do a little bit of exercise, everyday. With each online plan you are receiving 30 minute HIIT and 15 minute Pilates videos. The videos are tough, but safe. Technique, the breath and the muscles being used are always mentioned. You will also learn about how your body works from an anatomical, not aesthetic, point of view. I want women to know how their bodies work, not just what they look like.
How Have We Addressed Exercise:
6 Pilates PT Method Online workout videos tailored to your needs and goals
'Eat Sweat Play' by Anna Kessel. This book really solidified my views on women in sport. It is a must-read if you are looking to change your view (this comes in your starter pack)
Expert articles on DOMS (Delayed Onset Muscle Soreness – by Vanessa Ford)
Easy to use anatomy guides that educate you on the muscles you will be working
Easy to follow videos on Benchmarking (so you can use a metric other than before & after photos) and Foam Rolling (a superb way of self-massaging tired/aching muscles)
Weekly advice and guidance emails.
*
I really hope you all love the changes to The Pilates PT Method Online as much as I have enjoyed creating them. Let's take ownership of our bodies, our nutrition, our health and our happiness and bring back the true meaning of exercise!
*
Want to try The Pilates PT Method Online for 7-days for FREE? Click HERE to set up an account and get access to:
Two Pilates PT Method workouts (1 x HIIT and 1 x Pilates)

Access to specifically written expert-articles. These cover topics such as Mental Health, Nutrition, Sleep, and Anatomy.

10 Days of Headspace 

Daily advice and guidance from me

A Discount on the full plan